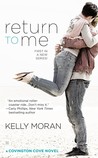 Return to Me
by
Kelly Moran
My rating:
4 of 5 stars
I asked for and received an ARC for this novel. While I don't read romance all that much, I've become Kelly Moran's fan. Here she returns to a familiar theme of two broken people coming together and learning to trust each other.
Ten years after Cole Covington and Mia Galdon fall in love and are torn apart by Cole's mother, they meet again. Cole returns from the war in the Middle East with post traumatic stress disorder. When he was severely wounded, his rescuers find him holding a picture of Mia. So broken is he by the loss of some of his men in combat and by nearly losing his life that he refuses to leave his coastal home near Wilmington.
Cole's sister contacts Mia and asks her to care for Cole in his home. Unsure if she wants to see the man who broke her heart, she finally agrees to nurse Cole back to health. Her job is to get him well enough to care for himself, leave the house and return to a functional life.
Romance readers will enjoy the journey of the two main characters as they try to deny they still love each other. Moran renders familiar tropes with intensity and a fresh voice.